The New, American Standard Telescoping Flagpole, by Liberty Flagpoles
View details
How To Install a Telescoping Flagpole - with HAXMAN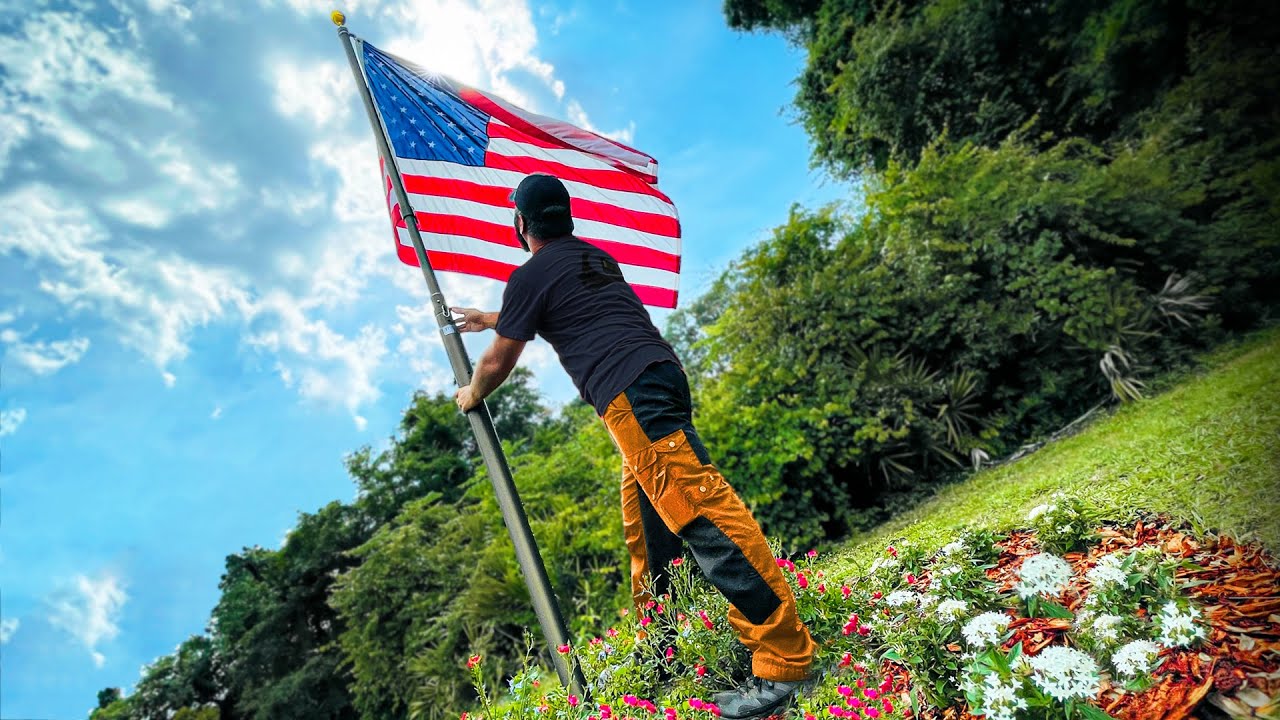 How To Choose a Residential Flagpole
Major considerations should be made when picking your residential flagpole. Here are some of the main points to consider:
Size & Height -
Consider first the most ideal location. Wherever this is, should allow the flagpole to be visible from every viewing angle. The typical height for residential flagpole applications is 20 feet, but if your home is two to three stories, you may want to consider a 25 or 30 ft flagpole.
Material & Design -
The main options for residential poles are aluminum and fiberglass. Fiberglass is a great option in highly humid areas or areas with a lot of adverse weather conditions (coast lines/north east). Aluminum is strong, light weight and very low maintenance. Generally aluminum is a great option for any location. Once the material is decided you will also need to consider your design listed below in order of general strength standards:
One Piece Tapered Aluminum Flagpole - like our Professional Grade flagpole
Telescoping Flagpole - like our Heavy Duty Telescoping flagpole
Sectional Flagpole Kit - like our Premium Flagpole Kit
In the instance that a one piece flagpole is selected you will then need to consider external or internal halyards....
Read More About How To Choose a Residential Flagpole
The Liberty Flagpole Company
As a veteran owned business we value supporting flags and flagpoles made in America. From our American Flags, State Flags, and Military Flags, to our telescoping flagpoles, one-piece aluminum flagpoles, and our commercial grade flagpoles, we are supporting the American supply chain.
When you buy from Liberty Flagpoles, you are supporting the USA supply chain, and a small, Veteran-family owned and operated business.
Our focus is on bringing the highest quality flags and flagpoles available on the market directly to you. We have both residential flagpoles and commercial grade flagpoles to be able support any flag or flagpole need you may have.
We value your support and look forward to providing you with the highest quality flagpoles on the market.
Thank you - we hope you enjoy your new flagpole!
View Our Residential Flagpole Products
American-Made Flagpoles
As a veteran-owned business, we are dedicated to helping our customers show their patriotism with sturdy, proper flags and flagpoles for sale made in the USA. Our wide variety of flagpoles give you an opportunity to fly your flags high and proudly. When you choose our commercial and residential heavy-duty flagpoles, you'll find they're made from a multitude of construction materials to suit your needs. From our wall-mounted flagpoles to our fiberglass flagpoles, you'll have a strong and dependable location to place your flag of choice. If you have any questions about our flagpoles, we will happily assist you with displaying your pride for the United States.