Description
Snap Hook Covers Help Reduce Noise and Improve Longevity
Specifications
| | | |
| --- | --- | --- |
|  Name | Length | Diameter |
| Traditional | 3 1/2" | 1 1/4" |
| XL Variant | 4 1/4" | 1 1/2" |
How to Attach a Snap Hook & Cover
Snap hooks are the hardware components that secure a flag to the flagpole rope (halyard). Snap hook covers shield the snap hooks from damage and keep them from rattling against the flagpole and making noise. Detailed instructions for installing snap hooks and snap hook covers are provided below.
*Liberty Flagpoles suggests using only stainless steel snap hooks as opposed to brass to avoid oxidation and corrosion.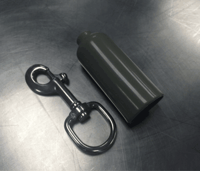 Step 1: Purchase 2, 1" x 3.75" swivel-I stainless steel snap hooks and 2 snap hook covers (available in grey, black, and brown).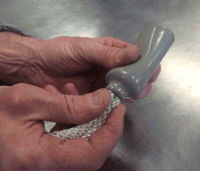 Step 2: Find the square knot holding the halyard's two ends together. The center position for connecting your snap hooks is indicated by this knot. Half the height of your flag should be measured up and down from the knot. If your flag is 3'H x 5'W, for example, you need to measure 18" up and down from the knot. The halyard should be folded to form a loop and fed through the top of the snap hook cover once you have measured and determined your connection spots.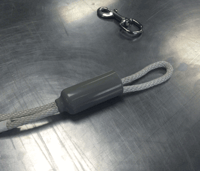 Step 3: Pull the halyard loop all the way through so that it extends past the bottom of the snap hook cover.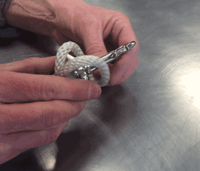 Step 4: Now feed the loop through the bottom ring of the snap hook.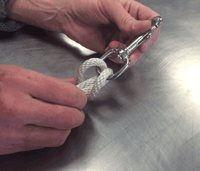 Step 5: After feeding the snap hook's top back through the open loop and passing the loop through the bottom eye hold, draw the halyard tightly.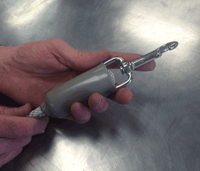 Step 6: Slide the snap hook cover over the knot leaving just enough of the snap hook exposed for attaching to the flag.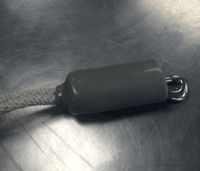 Step 7: To attach the bottom snap hook, repeat steps 1-6. Slide the coverings down so they completely enclose the hardware and knot once both snap hooks have been fastened to the flag.
At Liberty Flagpoles we do our best to give you one price that includes everything. With this in mind, we have decided to simplify our shipping process. All orders over $200 that ship through UPS or USPS ships absolutely free! 
Any items that ship through freight/LTL shipping will incur a singular flat rate fee regardless of the quantity of poles or size. This is a $349 fee for freight shipping, and with that we are still sharing in the cost of shipping with you. We feel we owe that to you as our customer. 
Our average cost for a 20-25' one piece flagpole is roughly $500 and costs only rise from there.
For orders under $200, we have highly discounted shipping rates to offer you and also provide multiple options to ensure you are getting the lowest possible shipping cost. 
So we are doing our best to shield our customers from the fluctuations in the shipping industry.  
Please see below for our current estimates on ship times - if you have any questions on shipping times please reach out to us directly.
Call: 1 800 314 2392
Email: Support@libertyflagpoles.com
-------------------------------------------------------------------------
Shipping for our heavy duty telescoping flagpole and flagpole kits is running approximately 3-6 days
Our commercial flagpoles can take between 1-6 weeks to ship depending on stock and trucking availability.
If you choose to have your flagpole anodized you need to add 3-4 weeks for the anodizing process to take place.
As with all typical freight deliveries, the customer is responsible for unloading the item.
For questions regarding commercial flagpole shipping, please contact us before placing an order.

Please inspect the flagpoles prior to signing for the delivery. Any damages (or possible concealed damage) or shortages must be noted on the POD/BOL they sign, or the freight company considers it free & clear delivery. Liberty Flagpoles will not be responsible for damages noted after delivery was signed free & clear. Please contact Liberty Flagpoles immediately for freight damage or shortages, the window to report them is very short.
Payment & Security
Your payment information is processed securely. We do not store credit card details nor have access to your credit card information.
Customer Reviews
Write a Review
Ask a Question
07/15/2019
KELVIN K.

United States
never got a snap hook Cover
never received the item, so dont really know its value.