Description
Snap hooks: what are they?
Your flag is fastened to the rope or halyard with snap hooks. They come in nylon, brass, and stainless steel. The majority of nylon hooks are utilized in residential areas because they make less noise when they strike your flagpole. Because they stay longer and can tolerate weather damage, brass and stainless steel are more frequently used in business settings. Snap hooks made of stainless steel are by far the toughest option. To preserve them and reduce noise, you should install snap hook covers if you purchase a brass or stainless-steel snap hook. For additional details, see our step-by-step guide on how to apply a snap hook cover.
How to Attach a Snap Hook?
1.)
 To make a loop, pinch your halyard between your thumb and forefinger.

2.) After that, insert this loop through the snap hook's eyelet.

Don't attach your snap hook to the halyard, as advised. By doing this, you will no longer be able to change the snap hook's position to suit the size of your flag. As you clip your flag in the final step, make sure to adjust the snap hooks as necessary to prevent your flag from flying incorrectly if they are too close together or too far away.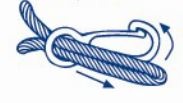 3.) Fold your loop back towards the halyard after pulling it up and over the snap hook. Pulling through a lot of slack will allow you to wrap the halyard loop around the snap hook. By adjusting the slack, you can quickly change the snap hook positions on the halyard.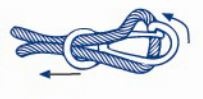 4.) In order to attach the snap hook, make sure to tighten the rope. You must take up the slack so that the snap hook is secure once the halyard loop has been passed over it. If done correctly, the snap hook grows tighter and more anchored the more wind there is. Repeat the procedure for the second snap hook after completing this step to attach your flag.

 If you require snap hooks or would like a quote, click here.
At Liberty Flagpoles we do our best to give you one price that includes everything. With this in mind, we have decided to simplify our shipping process. All orders over $200 that ship through UPS or USPS ships absolutely free! 
Any items that ship through freight/LTL shipping will incur a singular flat rate fee regardless of the quantity of poles or size. This is a $349 fee for freight shipping, and with that we are still sharing in the cost of shipping with you. We feel we owe that to you as our customer. 
Our average cost for a 20-25' one piece flagpole is roughly $500 and costs only rise from there.
For orders under $200, we have highly discounted shipping rates to offer you and also provide multiple options to ensure you are getting the lowest possible shipping cost. 
So we are doing our best to shield our customers from the fluctuations in the shipping industry.  
Please see below for our current estimates on ship times - if you have any questions on shipping times please reach out to us directly.
Call: 1 800 314 2392
Email: Support@libertyflagpoles.com
-------------------------------------------------------------------------
Shipping for our heavy duty telescoping flagpole and flagpole kits is running approximately 3-6 days
Our commercial flagpoles can take between 1-6 weeks to ship depending on stock and trucking availability.
If you choose to have your flagpole anodized you need to add 3-4 weeks for the anodizing process to take place.
As with all typical freight deliveries, the customer is responsible for unloading the item.
For questions regarding commercial flagpole shipping, please contact us before placing an order.

Please inspect the flagpoles prior to signing for the delivery. Any damages (or possible concealed damage) or shortages must be noted on the POD/BOL they sign, or the freight company considers it free & clear delivery. Liberty Flagpoles will not be responsible for damages noted after delivery was signed free & clear. Please contact Liberty Flagpoles immediately for freight damage or shortages, the window to report them is very short.
Payment & Security
Your payment information is processed securely. We do not store credit card details nor have access to your credit card information.
Customer Reviews
Write a Review
Ask a Question
07/23/2020
Douglas F.

United States
Satisfied
Easy to use. The plastic ones I had were hard to get into the flag.
Never received it. Have tried
Never received it. Have tried to call and receive no answer.